MANIFESTO

I BELIEVE IN A BETTER WORLD
---
This manifesto was inspired by John Lennon's song Imagine, which was written fifty years ago but conveys a message that today may be more important than ever: may we all take the conscious decision to believe in a better world. May we believe in our dreams and together do what is needed to make those dreams come true.
We hope that signing this manifesto will be a first step to create a more beautiful world together. We hope it will help you to keep your dreams alive and take a stand for what you believe in. As John Lennon sang: I hope some day you'll join us and the world will be as one.
---
I BELIEVE IN A BETTER WORLD
---
you may say I'm a dreamer…
Ik believe in DREAMS. Even though I feel sadness and anger for a world in distress, I refuse to lose myself in cynicism and despair. I believe that dreams are a first step towards a more beautiful world. Whenever I have a dream, my heart opens and I can feel the energy flow. With an open heart and a dream I can get out into the world and give everything I have to make it a more beautiful place. If I can dream something, I can believe in it. If I can believe in something, I can do it.
---
… but I'm not the only one
Ik believe in TOGETHERNESS. Together we can achieve more than when we are on our own. We can learn from each other and inspire each other. We can help each other when things are tough and laugh to make them lighter. If things go better with the world and the people around us, then we feel better, too. Together we can develop more ideas and we can learn to be more flexible. Together we can find solutions and implement them. It doesn't matter who we are or what our background is; everyone is different and everyone is needed. Together we can make our dreams come true.
---
Nothing to kill or die for, and no religion too
Ik believe in SOLUTIONS. Things can get better but that doesn't just happen overnight. Dreaming is important, but acting on those dreams even more so. I do not shy away from the problems that are there, but I believe that we can only solve those problems by thinking in terms of solutions. By being creative, thinking outside the box, letting go of prejudice and facing the world with an open mind, we can look at everything around us in a fresh way. By taking steps every day in the direction of a more beautiful world.
---
Imagine all the people, sharing all the world
Ik believe in this WORLD. I believe we can create a world where people work together in harmony with each other and with nature. Where we can live in peace, support and help each other, and create a balance together. We can choose to invest all our power and love into the people, the animals, the plants and the earth that are dear to us. The world is our home. Let's take good care of that home and all its inhabitants.
---
Writer manifesto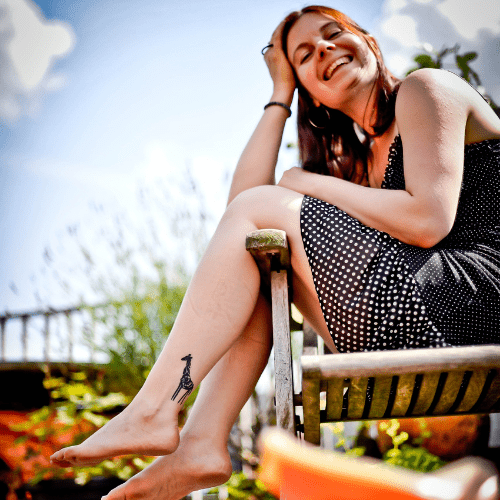 © Rosa van Ederen
Saskia Stehouwer (1975) studied Dutch and English and worked for more than ten years at the South Africa Institute of the Free University as editor and project leader. A serious burn-out caused her to radically change her life. She started gardening and writing, went to work at a health food store, and released her debut collection, Waiting Rooms, in 2014 with Uitgeverij Marmer.

She is now researching ways to live as self-sufficient and sustainable as possible. Her third bundle of Connective Tissue is a result of this quest: the paper for the bundle is completely self-made from plant remains and kitchen waste. The thirty copies were written by hand and can be disposed of in the compost heap after reading.

Saskia is one of the driving forces behind the climate poets, a young movement of over 170 poets from the Netherlands and Flanders who use their words to make people aware of the climate problem but also to inspire them to come up with creative solutions.

saskiastehouwer.nl
klimaatdichters.org